Bamboo Pens and Pencils Made from Your Bamboo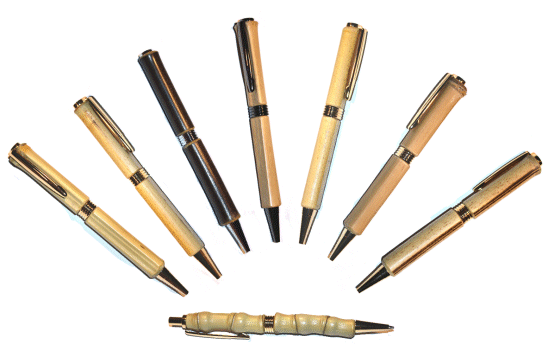 What I am offering here is the unique opportunity for me to make a pen or pencil for you with a cane from your garden. Imagine having a writing instrument made just for you immortalizing your own favorite bamboo.
Here is how it works:

Contact me at bamboo@ckart.com to make arrangements for shipping and payment. The buyer pays to ship the cane to me. I pay to ship the pen to the buyer. Pens are $15.00. Pencils are $16.00.

Select a cane segment:

I suggest a cane that is well aged. (At least a month or two after cutting.) This will make certain that the wood is stable enough to work with.

The segment should be at least 6 inches long and at least 3/8 inch in diameter. A diameter greater than 1/2 inch may be difficult to work with and may produce a somewhat fat looking pen, but if it is what you want, I will give it a try. (Sending a longer segment or multiple segments increases the chances for success.)

I do not recommend using canes cut in their first year. It has been my experience that young canes do not cure very well. Look for canes that have empty branchlets that were terminated with leave clusters in previous years. (I think that older canes have more character.)

Select the hardware:

Both Cross style pens and pencils are available in gold, dark gray, and chrome. For Parker style click pens, check with me for what is available.

Send the segment or segments to me at the address provided. (USPS First class mail is relatively cheap and is fine for this purpose.)


Once I receive it, I will either start work on the pen or pencil or contact you with an explanation why the specimen provided is not suitable.


Within one week, I will complete the pen or pencil.


If the pen or pencil was a success, I will send it to you. If it failed (this does happen), I will let you know, and you will have the option of sending another segment or getting a refund of the purchase price.




Except for sealant on the shaped areas, the surface of the pen is as it was in nature. The epidermis has been aged but is otherwise untreated. This makes the pen particularly comfortable to hold and to write with. If you have ever held bamboo in your hand, you know what I mean. The more you handle it, the more your natural skin oils burnish and improve the wood.